Weather halts search for man missing from Ramore Head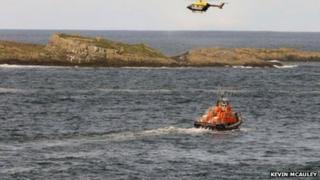 The search for a man who was swept out to sea at Ramore Head in Portrush on Saturday has been suspended temporarily because of the weather.
The police and coastguard operation had resumed on Sunday morning amid difficult weather and sea conditions.
It is understood the 38-year-old is a Polish national and was fishing on rocks at Ramore Head in Portrush.
Police have warned members of the public not to place themselves in danger by joining the search.
They said they understood the public wanted to help but said that due to deteriorating weather and sea conditions only trained specialists should be involved.
A search involving Portrush lifeboats, Coleraine and Ballycastle coastguard teams, a police helicopter and an Irish coastguard helicopter, was called off at 20:00 BST on Saturday due to poor light.
A number of other local vessels had also joined in.
Meanwhile, a 45-year-old man remains in a critical condition after being rescued from the water off nearby Portstewart.
The Irish coastguard helicopter winched the man to safety and he was taken to the Causeway Hospital in Coleraine.
He had been reported in the water shortly after 18:00 BST.
Speaking about the Ramore Head incident on Saturday night, Chris Little, station officer at Coleraine coastguard, said: "A very intensive search was carried out all over the area adjacent to Ramore Head and expanded out eastwards and westwards as the search progressed.
"However, as yet no trace has been found of the missing man."
Robert Cardwell, Portrush Lifeboat operations manager, said: "Various items of clothing etc have been found in the water, but at the minute no person has been found.
"There was a big, heavy, swell today and he was angling, as far as we know, and he's probably got washed off by a wave."