Sei whale beached on Antrim coast near Waterfoot dies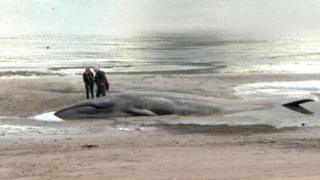 A rare deep water whale found beached on the north Antrim coast has died.
The juvenile Sei whale, which was about 8.5 to 9 metres long, was stranded on a beach beside Red Bay pier near Waterfoot early on Saturday.
The animal was thought to be too weak to refloat.
Ian Enlander from the Irish Whale and Dolphin Group was called to the scene on Saturday morning. He said the Sei whale was "incredibly rare in this part of the world".
"This is quite a young individual, so the likelihood is that it would still have been attended by its mother," he said.
"This is a deep open ocean species, so I suspect the young one has become separated from the mother somehow and has made its way into shallow water.
"It was clearly completely disorientated - some of the locals were describing to me that it was swimming round and round in tight circles.
"Unfortunately, it was also a falling tide so really by the time that it's stranded in the condition we see it in now, there's absolutely nothing we can do."