Arthur Gibson and Michael Murphy die in Glenarm shooting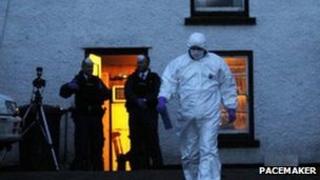 The two men who died in a shooting on a farm near Glenarm, County Antrim, were Arthur Gibson, 61, and Michael Murphy, 37.
Police officers were called to the property at about 17:15 BST on Friday after a report that both men had been discovered with fatal wounds.
Police are carrying out a forensic examination of the scene at a farmhouse on the Feystown Road.
Mr Gibson owned the farm and lived there alone. Mr Murphy worked for him.
He lived in Glenarm village with his partner and four children.
Police have said post mortem examinations would be carried out on Sunday. They are not looking for anyone else in connection to the deaths.
A gun has been recovered from the scene.
Shock
BBC NI reporter, David Maxwell said: "Exactly what took place here on Friday afternoon may never be known, but the deaths of two well-known men have shocked this community.
"Amid that shock, people here are also pulling together. This morning men milked the dairy herd belonging to this farm.
"Police say post mortem examinations will be carried out in the next few days and they are examining a number of possible scenarios regarding what happened."
Stephen Montgomery, a neighbour of Mr Gibson, said: "Art, obviously a very close neighbour of ours, was very well respected in the farming community for his knowledge of farming and has done a lot of work in the area, to the grounds and stuff.
"It's just a shock, it's a real tragedy for the village.
"I did know both men, Michael's children go to the school where my wife works and Art would be back and forward all the time around the farm - he's a good neighbour."
Robert Morrow, who knew both men, said: "I knew Mr Gibson very well and I knew Mr Murphy, so that makes it worse.
"This is a very close-knit community, a very friendly community and when something like this happens it goes right through the whole community."
The MP for East Antrim, Sammy Wilson, expressed his condolences to the families of the two men killed.
"The thoughts of the community will be with those who have been so tragically bereaved," he said.
"In a close-knit community, such as Glenarm, the impact of this crime will be felt by everyone."
A number of local people gathered at the farm on Friday evening.
Sinn Féin MLA for North Antrim, Oliver McMullan, knew the men.
He said people in the area were struggling to come to terms with the double fatality.
'Terrible tragedy'
"The mood in the area at the minute is one of disbelief, one of absolute shock and horror at what has happened," he said.
"It's a very close-knit community in that Feystown area and everybody knows everybody very well."
Mr McMullan said both of the men who died were well known in the local area and he expressed his sympathy to their families.
'Disturbing'
SDLP councillor Martin Wilson also conveyed his sympathies to the two families.
Mr Wilson said: "The entire community will be united in their sense of grief at this shocking and disturbing occurrence.
"Both men were well-known and their untimely deaths will be met with disbelief by those living in the community.
"All our thoughts and prayers are surely with the families at this very difficult time."