School meals debate: Poorer pupils 'do less well at GCSE'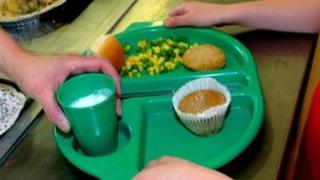 A Sinn Féin MLA has said that socially disadvantaged young people are half as likely to get five good GCSEs as those from a more prosperous background.
Chris Hazzard made the claim as he proposed a motion calling on NI's education minister to try to increase the uptake of free school meals.
Currently, some children who receive free meals at primary school lose them when they move to secondary education.
Stormont plans to end that practice by September next year.
This is expected to benefit more than 15,000 pupils.
Education Minister John O'Dowd said the meals helped children from lower income households by supporting "their health and wellbeing and improving their learning and educational attainment".
He gave the example that in the 2011/12 school year, 34% of pupils entitled to free school meals achieved five or more GCSEs at grades A to C, compared to 68% of those who did not.
He also said there was no research to show that members of the Protestant community were less likely to claim free school meals than those from the Catholic community.
The DUP's Mervyn Storey, who chairs the education committee, said figures showed more pupils from maintained schools, which largely service the Catholic community, applied and were eligible for the meals.
Mr O'Dowd said this was because there were higher levels of social deprivation within the Catholic community.
'No effort for consensus'
The SDLP proposed an amendment to the motion to emphasise the difficulties faced by "the working poor".
Sean Rogers said that in some cases the loss of free school meals entitlement could mean the difference between whether it was worth returning to work, or not.
Danny Kinahan of the UUP supported the motion and the amendment, but he criticised the overall approach of the minister.
"We see no effort for consensus," he said.
Trevor Lunn of Alliance said the motion and the amendment were so similar that "you could hardly support one and not support the other".
He noted that in Finland, which was held up as a country with a very successful education system, all pupils were entitled to free school meals.
Speaking ahead of the debate, a senior teacher in Belfast said the minister's plans to extend free school meal provision will bring enormous benefits to pupils from low-income families.
'Reach out'
Fiona Kane, the acting principal of De La Salle College in Belfast, welcomed Mr O'Dowd's move to extend pupils' eligibility criteria from next September.
"I think the minister's decision, while we might be frustrated that he hasn't been able to get this issue resolved for this year, I know that he intended to get it resolved for next year, and we will just have to manage families and schools until it is.
"I would welcome other decisions he has made where I do believe he genuinely is trying to reach out to the most socially disadvantaged young people."
At the start of the new school term earlier this month, Mr O'Dowd announced he was extending free school meal entitlement to pupils at 15 independent schools in Northern Ireland, for the first time.
The independent schools, which educate more than 700 pupils from two years old to 18, do not receive any public funding from the Department of Education.
The move was expected to take effect within weeks.