Haass talks: NI church leaders endorse Hope and History campaign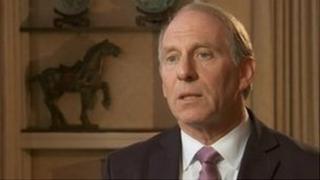 The leaders of the four main churches in Northern Ireland have endorsed a new campaign set up in support of all-party talks on flags, parades and the past.
The Hope and History campaign has been set up ahead of the talks which will be chaired by US diplomat Richard Haass.
The campaign is a joint initiative by members of various churches.
It invites church members to "sign up to a statement that gives positive encouragement to those who are committed to making peace work".
Mr Haass is due to host the first stage of the talks next week, tackling some of the most divisive issues still facing people in Northern Ireland 15 years after the Good Friday Agreement.
The diplomat was called in after a difficult year which saw violent street protests linked to the union flag dispute, increased tensions over parades and controversy over a proposed peace centre at the site of the former Maze Prison.
The organisers of the cross-church campaign said they wanted to "encourage our leaders and our community as a whole to seek the common good".
They have asked supporters to spread their message through social media.
The statement they want people to sign up to includes a call to citizens in Northern Ireland to "accept humbly our own part in how the past has shaped the present; our complicity in the divisions within our society and our contribution to the pain that different people across the spectrum of our society have experienced".
"We need to seek forgiveness for the past and change the way that we live and speak and act in the present, in order to foster a shared and peaceful future," the statement added.
It has been endorsed by the Catholic Primate of All Ireland Seán Brady, Church Of Ireland Primate Richard Clarke, Presbyterian Moderator Rob Craig and Methodist President Heather Morris.