Two men found dead after suspected shooting incident near Glenarm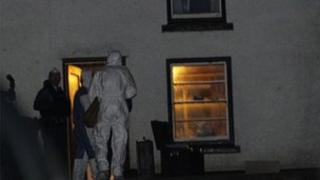 Two men have been found dead after a suspected shooting incident on a farm near Glenarm, County Antrim.
Police officers were called to the property at about 17:15 BST on Friday after a report that both men had been discovered with fatal wounds.
The men have been named locally as Arthur Gibson and Michael Murphy.
Police are carrying out a forensic examination of the scene at a farmhouse on the Feystown Road, in the hills just outside the village.
It is understood that one of the men who died is a farmer.
A Police Service of Northern Ireland spokesman said: "An investigation into the circumstances surrounding the deaths is underway."
A number of local people gathered at the scene on Friday evening.
Sinn Féin MLA for North Antrim, Oliver McMullan, knew the men.
He said people in the area were struggling to come to terms with the double fatality.
'Terrible tragedy'
"The mood in the area at the minute is one of disbelief, one of absolute shock and horror at what has happened," he said.
"It's a very close-knit community in that Feystown area and everybody knows everybody very well."
Mr McMullan said both of the men who died were well known in the local area and he expressed his sympathy to their families.
The MLA said the deaths were a terrible tragedy, not only for their relatives but also for the community.
'Disturbing'
SDLP councillor Martin Wilson also conveyed his sympathies to the two families.
Mr Wilson said: "The entire community will be united in their sense of grief at this shocking and disturbing occurrence.
"Both men were well-known and their untimely deaths will be met with disbelief by those living in the community.
"All our thoughts and prayers are surely with the families at this very difficult time."