Work stops on UVF mural that replaced George Best artwork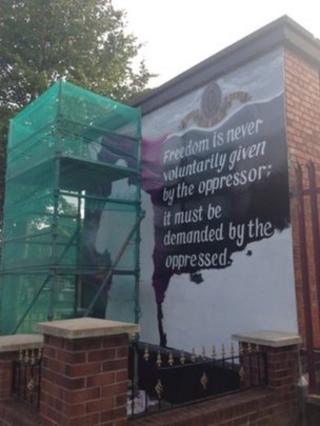 Work on a paramilitary mural replacing an image of footballer George Best, has been halted after a public outcry.
Councillor John Kyle said the negative reaction, including his own, to the masked gunman image had persuaded those behind it to reassess their plans.
The new image was being dedicated to the Ulster Volunteer Force (UVF), a paramilitary group that murdered more than 500 people during the Troubles.
It is not clear what will now happen to the unfinished painting.
The image of George Best on the wall at Inverwood Court, in east Belfast, had already been obliterated.
The Best mural went up three years ago with European funding as part of a regeneration project managed by Belfast City Council to tackle sectarianism.
"There are discussions going on with the people who were behind the changing of the mural and a recognition that there had been a huge public outcry," said Dr Kyle.
"Street art should be positive and give hope to the community," he added.
As part of the Northern Ireland peace process, there has been a drive to remove the guns from Belfast's streetscapes by replacing paramilitary murals with less controversial images, reflecting the city's cultural heritage.
In 2008, a UVF mural in Dee Street was painted over with a scene from the Chronicles of Narnia, not far from where the author CS Lewis was born.
The Aslan artwork was unveiled by Northern Ireland's First Minister Peter Robinson, who said at the time it "indicates to me that people are moving on and people want to see a brighter future for young people".
However, three years later, new paramilitary murals appeared on walls on Dee Street and on the nearby Newtownards Road.
Some local people expressed concerns about the paintings, which depict masked men holding machine guns, but they are still in place.
'Dreams'
The former football mural at Inverwood Court featured a black and gold plaque with an inscription that read: "Dedicated to the legend that was George Best.
"Work hard to develop the talent you were born with, be dedicated and embrace every chance you have to learn, then your dreams can be realised."
Best, who is widely regarded as one of the greatest players to have graced the British game, was the son of an east Belfast shipyard worker.
He grew up on the city's Cregagh estate and as a schoolboy, his talent was spotted by a Manchester United scout.
He signed as a professional for the club when he was 17, and went on to win two league titles and the European Cup with Manchester United, in 1968.
Best also won 37 international caps for Northern Ireland, scoring nine goals.
He died aged 59 after a high-profile battle with alcoholism.
Up to 100,000 people lined the streets of his native city for his funeral, which was held at Stormont, the seat of Northern Ireland's power-sharing government.