Ryan Gray jailed for rioting on first night of union flag protests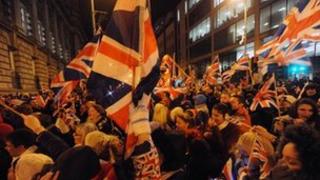 A Belfast man who admitted involvement in the first night of rioting linked to the union flag protests has been given an 18 month jail sentence.
Belfast Crown Court heard Ryan Gray was involved in "nakedly sectarian" rioting for several hours in the east of the city on 3 December last year.
Hours earlier, Belfast City Council had voted to limit the number of days the union flag could be flown at City Hall.
Gray, from Southland Dale, pleaded guilty to a single count of riot.
Trouble began on the streets outside Belfast City Hall minutes after the vote took place.
Ordering Gray to spend nine months in jail and the rest on licence, the judge told the 22-year-old that having been at the City Hall when the council decided not to fly the union flag every day, he "should have known better, all you had to do was just walk away".
'Fully cooperative'
A prosecuting lawyer told the court that Gray walked back towards east Belfast with the crowd of protesters and got involved in hours of rioting.
CCTV footage that had been gathered by the police was played to the court and it showed Gray as part of a rioting crowd at various locations in the east of the city.
Wearing an easily identifiable blue and white track suit top, Gray was filmed throwing six missiles at police lines and the Short Strand - a nationalist housing estate.
Gray was arrested two months later. According to the prosecution he was frank, fully cooperative and even handed over the clothing he had been wearing that night.
Jailing Gray, the judge told him while he had "done everything you could" as regards pleading guilty at the first opportunity, there was a need for deterrent sentences for offences of riot.