Fearghal McKinney chosen as MLA to replace SDLP's Conall McDevitt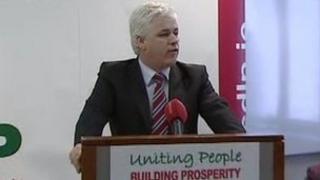 The SDLP has chosen Fearghal McKinney to replace Conall McDevitt as MLA for South Belfast.
Mr McKinney beat South Belfast SDLP councillor Claire Hanna by 113 votes to 69 at a party selection contest in the city on Thursday evening,
The new MLA is a former news reporter with UTV.
Mr McDevitt resigned after it emerged he had failed to declare more than £6,000 earned from a public relations firm shortly after he became an MLA.
Mr McKinney and Ms Hanna were the only two candidates who contested the co-option to his vacated seat.
'Stalemate'
More than 250 party members attended the selection meeting in a south Belfast hotel, during which both candidates made speeches and took questions.
Speaking after the vote, Mr McKinney said: "It is an honour to have been selected by the delegates in South Belfast to represent them and the whole constituency in the Northern Ireland Assembly.
"As I said this evening people are disillusioned with the stalemate at Stormont and deserve so much more.
"I bring SDLP values and a steadfast commitment to improve our political discourse and champion the hopes and ambitions of people across this region," Mr McKinney added.
Writing on her Twitter account after the selection contest, Ms Hanna congratulated her successful opponent and thanked her own supporters.
She wrote: "Mad six days, threw my hat in the ring for Conall's co-option. I didn't get it, but thanks to my wee team & congratulations Fearghal."
Campaigning role
Mr McKinney, 51, was born in Londonderry and grew up in Enniskillen, County Fermanagh.
He worked as a newspaper reporter in Enniskillen before moving to Belfast to work in radio and TV.
The married father-of-three was employed by UTV for 15 years, but left the organisation in 2009 to set up a digital media business.
The following year, Mr McKinney stood as the SDLP's Fermanagh South Tyrone candidate in the 2010 General Election.
He got 3,574 votes, equating to 7.6% of ballots cast.
The sitting Sinn Féin MP for Fermanagh South Tyrone, Michelle Gildernew, polled 21,304, retaining her seat by just four votes ahead of the unionist unity candidate Rodney Connor.
After the Westminster election, Mr McKinney was appointed as vice-chair of the SDLP, and took on a campaigning and organisational role within the party.
Following his co-option, it is expected that he will be sworn in as a new MLA at the assembly early next week.