Transport Minister Stephen Hammond apologises for DVA bias comments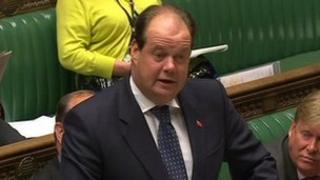 The Conservative transport minister has said sorry to staff at the Driver and Vehicle Agency in County Londonderry for comments about religious bias.
Stephen Hammond made the apology in the House of Commons in response to a question from DUP MP Ian Paisley Jr.
Mr Paisley described wording contained in a consultation document on plans to move 300 jobs to Wales as a "smear".
Part of the document said moving the jobs from Northern Ireland would remove any possibility of religious bias.
The claim was made in an equality assessment document, compiled to accompany the government's consultation paper on centralising Driving and Vehicle Licensing Agency operations in Swansea.
'Offence'
It would mean that the posts would transfer from Coleraine to Swansea.
The document stated: "Centralisation will remove any possibility that Northern Ireland services may be biased to any particular religious group, since these transactions will no longer be serviced by staff based in Northern Ireland, who could themselves hold particular beliefs."
Mr Hammond told the Commons: "I apologise for any offence that was inadvertently caused, I accept the wording could have been clearer.
"I must stress that there was no intention to imply that anyone at the staff at DVA may be biased in any way and indeed the equality assessment concludes that there is nothing in the proposal in the centralisation plans that would give rise to any bias, or indeed any perception of bias."
'Outrageous'
The transport minister was speaking on the day that the consultation closed to public submissions.
Mr Hammond also agreed to Mr Paisley's request to meet DUP MPs and a delegation of staff from the Coleraine DVA to discuss the centralisation plan.
Last month, Northern Ireland's Environment Minister, Mark H Durkan described the wording of the document as "outrageous" and an insult to workers whose jobs are under threat.