McGurk's Bar bombing: Bridget Irvine wins right to challenge police over HET report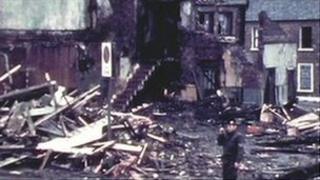 The daughter of a woman killed in a loyalist pub bombing has won permission to challenge the non-disclosure of a report into the 1971 massacre.
Bridget Irvine's mother Kitty was among 15 Catholics murdered in the UVF attack on McGurk's Bar in Belfast.
Belfast High Court has granted Ms Irvine leave to seek a judicial review.
If successful, the action would compel the Chief Constable to publish the findings of an Historical Enquiries Team (HET) examination of the atrocity.
The latest HET report into the original RUC investigation of the bombing was completed last December.
'Unlawful'
With police said to be pursuing further evidential leads, the findings have still not been given to the families of those killed in the blast.
At the High Court on Thursday, the families' barrister set out the basis for seeking a judicial review, saying that the Chief Constable is under a public law duty to disclose the report without delay.
The failure to hand the dossier over to the families is irrational, unlawful and in breach of their human rights, the court was told.
In 1978, Ulster Volunteer Force (UVF) member Robert Campbell was convicted for his part in the attack.
But counsel for the Police Service of Northern Ireland told the court that a live police investigation is ongoing.
The possibility of releasing an interim, redacted report was also discussed during the hearing.
'Biased'
Following submissions, the judge granted leave to apply for a judicial review on the grounds of challenge.
A date for a full hearing is expected to be fixed in four weeks time.
The challenge follows a Police Ombudsman probe in 2011 that claimed the original RUC investigation was biased.
It said police failed to properly probe loyalist responsibility for the bombing because they were so focused on the idea that the IRA was to blame.
At the time, Mr Baggott pointed to different conclusions reached by other reports.
After clearing the first stage in their legal battle, Ms Irvine's sister Pat claimed it would give the Chief Constable the chance to explain the delay in publishing the HET findings.
Speaking after the hearing she said: "We believe the police have carried on the investigative bias involved in the original investigation into the murder of 15 innocent Catholics in the McGurk's Bar atrocity."
Their solicitor, Paul Pierce of KRW Law, added: "This is an important and significant decision by the court to allow an opportunity to examine the underlying reasons for the Chief Constable's delay in publishing this report to the families."