Trafficked victim kept naked and beaten regularly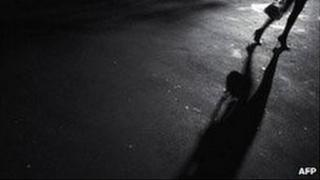 A young woman who was trafficked into prostitution in Northern Ireland has said she was beaten regularly by the criminal gang that held her captive.
The 25-year-old from eastern Europe said she and other girls were kept short of food at a house in Belfast and were not allowed to wear clothes.
She told BBC's Good Morning Ulster programme she was only permitted to sleep for about two hours at a time.
The victim said her experience had left her with physical and mental problems.
"The difference between selling a person for sexual exploitation and a butcher who sells meat, it is not different. It's the same thing," she said.
'Frequent beatings'
She said a typical day would entail being wakened by someone beating her. She would then be dragged from wherever she was sleeping, "probably on a sheet on a cold floor," and pushed into the shower.
The victim said beatings were frequent and she had "learned to keep quiet."
"Food, you don't have. Probably the only thing you could use was water, at the sink or the bathroom," she said.
"If there is food, there is going to be a major row between all the girls who are kept there.
"You are not allowed to wear clothes, you have to stay naked in front of everybody. If you had clothes, the girls would try to take them from you.
"Meanwhile, you have to accept the people who are seeing you. They pay money before they even arrive. They hand you money, but pimps are standing at the door waiting for their money."
She said they were not allowed to sleep for longer than two hours.
'Mental problems'
"You reach a level where you cannot even walk," she said.
The woman said her treatment had left her with serious back pains and mental problems.
"Head problems, like keeping things in my head because I was hit with the door on the head, and some interior organs. I cannot say more than that."
"The only thing that keeps you alive is, you see a picture of the happiest memory in your life, and you hope that you are going to have freedom."
A human trafficking bill goes in front of a Stormont committee on Thursday.
If it gets the go ahead, it will criminalise men who buy sex.
The woman said she would welcome the bill, which is being brought by DUP MLA Lord Morrow.
"They (clients) think they pay for sexual services to that girl, but they don't pay the girl. They pay nothing. They pay the pimp to bring in more girls to change them," she said.
"I think it would be fair for them to have criminal records."