£3.5m funding boost for creative industries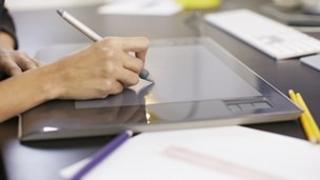 Creative industries in Northern Ireland and the border counties of the Republic of Ireland are to get a £3.5m boost.
The money will help with training in a number of areas including film and broadcast, animation and gaming.
Funding has come from the European Union, and government departments in Northern Ireland and the Republic.
Lorraine McCourt, of the Special European Union Programmes Body (SEUPB), said: "This is a truly innovative initiative."
She added: "It will build upon the wealth of natural home-grown talent and expertise that exists within the region.
"It will help generate new employment opportunities, safeguard existing businesses in the digital content marketplace, and encourage strong economic links, on a cross-border basis."
The University of Ulster is the lead partner for the 'Honeycomb - Creative Works' project, a trans-national support programme aimed at maximising the economic potential of the sector.
Competitive
The project will be delivered in partnership with Creative Skillset and the Dundalk Institute of Technology, along with the Nerve Centre in Londonderry and the Letterkenny Institute of Technology.
Eddie Friel, head of business development in the University of Ulster's Office of Innovation, said that the university is already playing a major role in developing creative talent.
"The project will contribute to regional prosperity by stimulating growth and increasing competiveness in the creative industries sector," he said.
"The Honeycomb-Creative Works programme has been developed to serve the needs of companies and practitioners in the digital content sector to help them become more competitive in the global marketplace. The partners currently employ staff with considerable expertise in the creative industries sector."
He added: "The programme will provide skills enhancement and a range of supports for individuals and businesses in the film and broadcast, animation; gaming; interactive media and music technologies through research, networking, skills development and project finance."