Pair bid to replace McDevitt as south Belfast SDLP MLA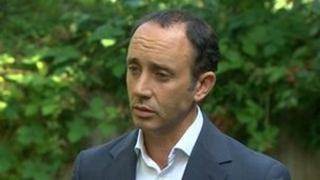 Two people are in the running to replace Conall McDevitt, who resigned as south Belfast MLA last week.
Belfast councillor Claire Hanna and party official Fearghal McKinney will face an SDLP selection conference in Belfast on Thursday.
About 300 people have a vote in a contest that will be decided that night.
Ms Hanna and Mr McKinney were SDLP candidates in the 2010 General Election.
Mr McDevitt resigned after it emerged he had failed to declare more than £6,000 earned from a public relations company while he was an MLA.
He said he failed in his duty to uphold the standards expected of an MLA.
Earlier, Mr McDevitt had confirmed that his wife, Joanne Murphy, received £30,000 in public funds in the last two years, carrying out research for him in his role as a member of the Northern Ireland Policing Board.
Last month, it was revealed that more than £14,000 from Mr McDevitt's assembly office cost allowance was paid to researchers through his wife's firm, JM Consulting.