Jordanian Paralympic athlete Omar Qaradhi to face trial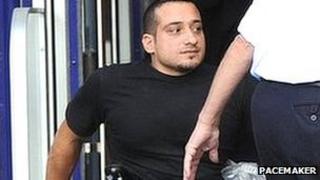 A Jordanian Paralympic athlete accused of sexually assaulting a woman and two girls has been told the case against him will proceed.
Omar Sami Qaradhi, 32, and two of his team mates were arrested in Antrim last summer when the team was preparing for the London games.
They were barred from taking part in the games and were returned to Jordan.
The charges against his teammates were withdrawn earlier this year, but Mr Qaradhi still faces three charges.
On Wednesday, he returned to Northern Ireland and at Antrim court a preliminary enquiry heard from one of the alleged victims, another alleged victim's mother and three police officers.
The power lifter sat in silence as the proceedings were relayed by a translator.
Watching on was a representative of the king of Jordan who has taken an interest in the case.
After hearing the statements, district judge Mervyn Bates said he was satisfied that Mr Qaradhi had a case to answer and he referred the matter to the crown court.
The accused was granted bail and is due in court again next month.