Matt Baggott and Policing Board discuss HET'S Dave Cox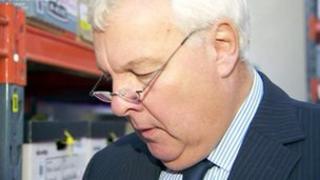 The future of the head of the Historical Enquiries Team (HET) will be discussed again later.
Some members of the Policing Board and Chief Constable Matt Baggott will discuss the future of Dave Cox.
The discussions will take place during a private session of a special committee set up to review the future of the HET.
The Policing Board and the chief constable are at odds over a timescale for Mr Cox's departure.
It follows a damning inspection report that criticised the way the HET investigated military killings.
Last Friday, board members received an email informing them that Mr Cox would leave his post at the end of September.
But on Saturday night, Police Service of Northern Ireland (PSNI) sources insisted that was not the case.
Mr Baggott had previously said Mr Cox would retire at the end of December, but Policing Board members had wanted him to leave at the end of this month.
Disagreement over his departure date sparked a bitter row between Mr Baggott and board members last week.
There were heated exchanges at a private meeting between the PSNI leadership and the board, as members made it clear they would not accept Mr Baggott's decision to allow Mr Cox to remain in post until the end of the year.