Appeal as Mid-Ulster Hospital worker diagnosed with hepatitis C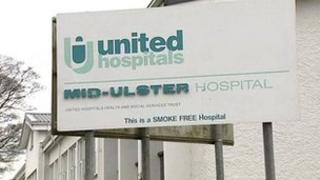 A health trust has asked Mid-Ulster Hospital patients from over 30 years ago to contact them after a staff member was diagnosed with hepatitis C.
The doctor, now retired, worked in the maternity and gynaecology units between January and November 1979.
Women who attended the unit in Magherafelt during the 11-month period are asked to contact the trust.
The Northern Trust said the risk of infection was "very small", but asked people to contact them as a precaution.
The helpline number is 028 94424804.
Hepatitis C is a virus that can damage the liver. There is only a small chance that a person might have the virus transmitted through contact with an infected healthcare worker.
However, most people initially show no symptoms and can remain well for a number of years.
Dr Robin Ashe, clinical director for obstetrics and gynaecology at the Northern Trust, said: "I wish to emphasise that the risk of infection is very small however, we appreciate the concern and distress that this may cause and are therefore offering screening, as a precaution, to anyone who was treated in the unit during the defined time period."
He said the helpline was open seven days a week from 08:30 BST to 20:30 BST and staff could guide people as to whether they needed to have a blood test.
"If you do need tested, staff will arrange an appointment for you at an outpatient clinic and will answer any questions or queries you may have," he said.
Hospitals across UK
The healthcare worker also worked at other hospitals across the UK and similar exercises are taking place in for hospitals in England, Scotland and Wales.
The Mid-Ulster was the only hospital they worked at in Northern Ireland.
Assessment clinics for Mid-Ulster patients will open from 08:30 BST until 20:30 BST from Thursday until they are no longer needed.
The venue, date and time of the appointment will be confirmed with each patient and results will be available within a week.
The trust said effective treatments were available for Hepatitis C and further information and advice will also be provided to anyone who needs it.