Pipe bomb found near Belfast primary school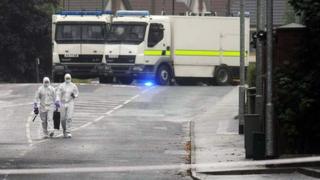 A partially-exploded pipe bomb has been removed from the scene of a security alert in south west Belfast.
It was found by a police patrol near a primary school in Summerhill Road at about noon on Wednesday. Eight homes were evacuated while the Army made it safe.
The police believe the bomb may have detonated elsewhere before it was abandoned near the school.
It is not clear what the target may have been.
All residents have been allowed home and all roads have reopened.
An earlier alert in Ballyclare was declared an elaborate hoax. A controlled explosion was carried out on an object near the town police station.
It was found on the Ballynure Road on Wednesday morning.
A number of homes were evacuated during the alert. The Ballynure Road has now reopened.
It is the fourth time in two days that Army bomb experts have had to detonate a suspicious device.
On Tuesday there were three alerts, however only one of them resulted in the discovery of a bomb.
A pipe bomb was found close to a territorial army base in south Belfast.
Danny Kinahan, Ulster Unionist MLA for South Antrim, condemned those responsible for the Ballyclare alert.
"They are a menace to society and plainly oblivious to the hurt and inconvenience which they have caused to the Ballyclare community," he said.
"Local people have been moved out of their homes, children going to school have been put at risk and local businesses affected. Those who are to blame for this don't care about people going to work or children trying to get an education."