Northern Ireland unemployment rate continues to fall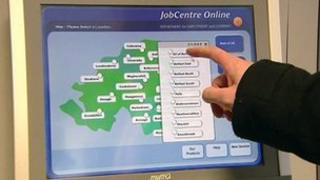 The number of people signing on in Northern Ireland is continuing to fall.
Three hundred fewer people claimed the dole in August, bringing the total claimant count to 62,200.
This is the seventh consecutive month that the number out of work has fallen - the first time it has happened since August 2007.
The other measurement of unemployment, the Labour Force Survey, shows a quarterly rate of 6.9% which is below the UK rate of 7.7%.
However the number of people classed as economically inactive - which is largely people who are not looking for work - is continuing to rise.
The economic activity rate in Northern Ireland stands at 27.3%, compared to a UK average of 22.3%.
Enterprise Minister Arlene Foster said the latest employee jobs figures were also "positive".
"The increases were broadly based, occurring in the services, manufacturing and other industries sectors," she said.
The minister said the continued decrease in the unemployment rate, and the recent increase in overall jobs, was encouraging and reflected Northern Ireland's "strengthening" economic position.
"Our strategy aims to continue to develop high value-added, quality jobs as well as encouraging investment to further demonstrate that Northern Ireland is a great place to do business," she said.
"Next month, we will be hosting an investment conference to showcase Northern Ireland to potential investors, as well as highlighting the strength and potential of our key export sectors."