Court lessons learned from Donagh sex abuse case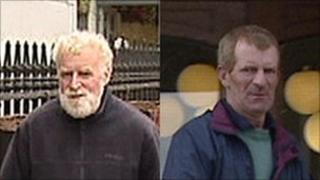 A review of clerical errors made in the handling of a major historical sex abuse case in County Fermanagh, means court orders are now more accurate, a report suggests.
Criminal Justice Inspection Northern Ireland said lessons had been learned from the Donagh case.
Brothers James and Owen Roe McDermott abused children over a 30-year period.
They were judged mentally unfit to stand trial but then returned to live in the village of Donagh.
It emerged that a clerical error had been made in a supervision and treatment order. The judge had included a residency requirement in his original judgement but this had been left out of the order.
In September 2012, the justice department said the error had no bearing on the decision to allow the two brothers to return to Donagh on completion of the court case. But it acknowledged the hurt caused to people in the village.
A month after they were said to be unfit for trial, the brothers left Donagh and voluntarily admitted themselves to hospital for treatment.
In its report published on Thursday, the CJI pointed to "significant improvements made by the Northern Ireland Courts and Tribunals Service (NICTS) to the administrative arrangements in place to deal with court orders".
"The Donagh case highlighted a number of weaknesses and, while the errors did not have a material effect on the outcome or the disposal of the case, they undermined public confidence in the criminal justice system at that time," said Brendan McGuigan, chief inspector of CJI Northern Ireland.
'Catastrophic impact'
With almost 360,000 court orders issued each year, Mr McGuigan said the NICTS work had a bearing on public safety.
"The inaccurate recording of a court order and its subsequent implementation, has the potential to have a catastrophic impact on an individual or a community, if it is incorrect," he said.
"In the most serious cases, it could result in a prisoner mistakenly being set free or a sex offender being released without the appropriate license conditions being imposed, therefore we welcome the work undertaken to date."
The CJI found that in a review of 132 high risk orders for sexual offences issued, there were five errors, each of which were quickly rectified by NICTS administrators in conjunction with the relevant judge. There were no serious outcomes in any of these instances.
The error rate was 3.8%, compared to a similar review between 1997-2011, where the error rate was 18.4%.
In the Donagh case, inspectors said there were weaknesses in the system caused by:
the failure of court personnel to maintain a timely and accurate case record at each stage;
limitations within the IT system;
human error in transcribing;
assurance checking against original court records that were inaccurate in the first place;
failure to issue notification orders to defendants.
At about the same time as Donagh, there were three cases of mistaken releases from prison, due, in part, to failures in the checking of outstanding warrants and misunderstandings by prison service staff.
The CJI said subsequent improvements in the system reduced the risk of this happening again.
Mr McGuigan said the NICTS should continue to strive for an accuracy rate of 100%, particularly in serious cases where an error could have a significant impact on a person's liberty or imprisonment, or where protective measures need to be applied before an offender is released from custody.
CJI inspectors have identified four areas for improvement which, they said, could serve to further strengthen the existing arrangements.