Extradition hearing for Lurgan bomb accused Ryan McKenna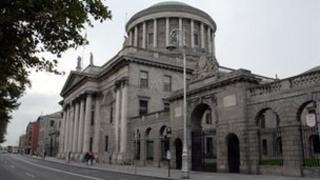 A 24-year-old man wanted in Northern Ireland on terrorism charges has been remanded in custody at the High Court in Dublin.
Ryan McKenna, from Lurgan, was arrested in County Mayo on Monday night.
He is wanted on charges of conspiracy to cause an explosion and possession of explosives with intent to endanger life in Lurgan, County Armagh, in 2007.
Mr McKenna was remanded to Cloverhill prison to appear before the court again on Friday.
A counsel for the state told an extradition court that Mr McKenna's three co-accused had already pleaded guilty to the offences.
Sergeant John McElroy told the hearing he stopped a car driven by Mr McKenna on Monday night at Cross, County Mayo and arrested the Lurgan native on foot of a European Arrest Warrant endorsed in August.
There was no application for bail on behalf of Mr McKenna.