Government 'should join Haass talks' says Vernon Coaker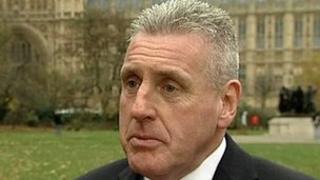 The shadow secretary of state has said the government should be fully involved in the Haass talks next week.
Vernon Coaker said the government should take a more direct approach to the discussions chaired by former US Envoy Richard Haass.
The talks will consider the controversial issues of flags, parading and how to deal with the past.
Mr Coaker said progress in Northern Ireland had come when the two governments worked with the parties.
"The secretary of state thinks the only role the government should have is to approve anything agreed between the parties at the Haass talks, effectively placing preconditions on the outcome. I think that's the wrong approach," he said.
"We have made progress in Northern Ireland when both governments work with the political parties and civic society. Now is not the time to walk away. The secretary of state needs to meet her responsibilities and get involved."
Mr Coaker also said next week's discussions should be as wide ranging as possible.
"My view is that there should be no constraints or parameters placed on the frank dialogue needed, beyond the terms of reference that have already been agreed," he said.
A spokesman for the secretary of state rejected Labour's criticism.
"Vernon Coaker doesn't seem to have realised that the Haass group is an all-party group of the executive set up by the first minister and deputy first minister," he said.
"It's right that local politicians start to take ownership of the issues it is considering.
"The government has made very clear that, while we are not formally part of the group, we are fully engaged with and supportive of the process. Any criticism that we are not meeting our responsibilities is simply wrong."