Maze dispute will not overshadow NI leaders trip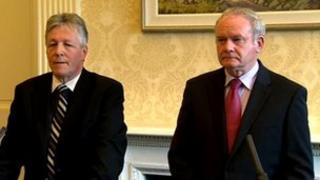 Northern Ireland's deputy first minister said he does not want the Maze peace centre dispute to overshadow an American economic mission.
Martin McGuinness and Mr Robinson met privately in New York on Monday. Mr McGuinness described it as useful.
The Deputy First Minister said he was in problem solving mode and wanted others to adopt the same approach.
It was their first meeting since Mr Robinson's decision to stall the Maze Peace Centre.
The DUP leader publicly blamed Sinn Féin's backing for a Castlederg parade commemorating dead IRA members for his decision on the Maze.
But he said that any centre should be in a neutral, non-partisan site.
"The public support is not there for a peace centre on that site (the Maze)," he said.
Mr Robinson said the concern people had was that it would be used "to deal with the story of combatants at the Maze, rather than the story of the effects of terrorism and the dire consequences of violence".
Divisive
But he added that the peace centre was a "minor issue" compared to boosting the Northern Ireland economy and creating more jobs.
However, when asked on Tuesday if he agreed with Mr Robinson that the Maze dispute was a "minor issue", Mr McGuinness said the process faced very serious difficulties.
The deputy first minister said building a peace centre at the Maze was a Stormont Programme for Government commitment which he still wants to be delivered.
Sinn Féin were angry about the Maze decision. Mr McGuinness is certain to have made that clear at Monday's meeting.
In an interview with BBC Northern Ireland political editor Mark Devenport, Mr Robinson said the idea of a peace centre was "a good one", deserving of support.
Mr Devenport said both Mr Robinson and Mr McGuinness would have to find a way to carry on working together, as they meet businessmen from the New York Stock Exchange on Tuesday and prepare to hold discussions with US diplomat Richard Haass on Wednesday.
Dr Haass will arrive in Belfast later in September to chair all-party talks set up to deal with some of the most divisive issues confronting Northern Ireland.