Turkey murders: Further psychiatric tests on accused ruled out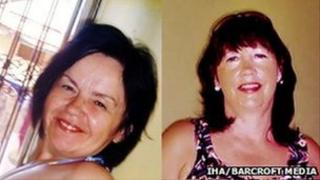 A defence lawyer's request for further psychiatric examination of one of the men accused of murdering two County Down women in Turkey has been rejected.
Marion Graham, from Newry, and Cathy Dinsmore, from Warrenpoint, were found dead in a forest in August 2011. They had been stabbed.
Recep Cetin and his father, Eyup, have been on trial before four judges.
Recep has admitted stabbing the women, but claimed his father had nothing to do with it.
They are being tried in a series of hearings being held several weeks apart in the city of Izmir.
In the latest stage of their trial, the judges said there was no need for another psychiatric assessment of Recep Cetin.
They cited an earlier health report and Recep Cetin's previous testimony that he had never had any psychological problems.
The public prosecutor read out his consideration of the case. This is usually the last step before the judges reach the verdict.
The public prosecutor told the court that in his opinion, both the father and the son were involved in the murder.
Footage
Eyup Cetin rejected the claims once more and said he was not with his son when Recep killed the women.
Eyup Cetin said he could not defend himself because his Turkish was poor. The family is originally from the Kurdish region in north east Turkey.
Recep Cetin said the court should check security camera footage to find out whether his father left his shop in Izmir on the day of the murder.
The lawyer for Recep Cetin submitted his final defence.
He said his client committed the crime under "heavy provocation".
The lawyer for the Eyup Cetin is expected to submit his final defence during the next hearing.
The lawyer of the victims' families, Baris Kaska, said the prosecutor's consideration matched his initial claims.
"We are very pleased with the public prosecutor's consideration of the case and if anything extreme does not happen, this is it. We will have the verdict at the next hearing," said Mr Kaska.
The next hearing was scheduled for 2 October.