Theresa Villiers in pledge over Haass talks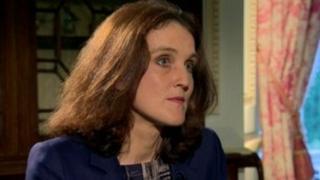 Secretary of State Theresa Villiers has said the British Government stands ready to help in any way during the Haass talks which begin next week.
The multi-party discussions chaired by former US envoy Richard Haass will consider flags, the past and parading.
Speaking to MPs, Theresa Villiers said she would provide any help she could and said the Irish government would be "equally supportive".
She was addressing the Northern Ireland Grand Committee at Stormont.
The committee discussed the political and security situation in NI.
The secretary of state praised local politicians for "taking ownership of the talks process".
SDLP leader Alasdair McDonnell said that both the British and Irish governments should be ready to offer help to the Haass process.
'Godparents'
He described the authorities in Dublin and London as the "godparents of the settlement".
The South Belfast MP said "we may have difficulty finding solutions".
DUP MPs who attended the grand committee, which was chaired by the South Antrim MP William McCrea, used the question and answer session with Ms Villiers to raise a series of security-related questions.
The party's deputy leader, Nigel Dodds, pointed to the role of the National Crime Agency and urged Theresa Villiers to lobby Sinn Fein and the SDLP to support its introduction in Northern Ireland.
The North Belfast MP said the agency could benefit the benefit "the people of Northern Ireland".
The secretary of state said she would continue to try to get Sinn Fein and the SDLP to support the role of the agency in Northern Ireland.
Fuel smuggling
Labour's Stephen Pound raised the issue of fuel smuggling and pressed NIO Minister Mike Penning on why there was a delay to the introduction of a fuel marker which could be used in the fight against smugglers.
Mr Pound said the marker was an "essential tool" in the fight against illicit fuel.
Mr Penning said he hoped the marker could be introduced but it was important that when it was introduced, it was effective.
South Down MP Margaret Ritchie, of the SDLP, highlighted how traders in her constituency were being affected by the illegal fuel trade.
East Antrim MP Sammy Wilson and Upper Bann MP David Simpson, both of the DUP, both highlighted the low number of arrests for illicit fuel distribution.
North Antrim MP Ian Paisley used one of his questions to the secretary of state to raise concerns about last month's republican parade in Castlederg.
He said the parade had damaged community relations and he hoped it would not be repeated.
In response, Ms Villiers said she had expressed serious reservations about the Castlederg parade and she hoped there would be a different outcome next year