Northern Ireland job prospects 'in further fall'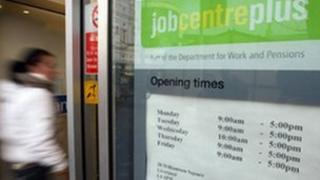 Job prospects in Northern Ireland have dropped again, a new survey of employers suggests.
The Manpower Employment Outlook Survey is based on responses from 2,104 UK employers.
It asked whether employers intend to hire additional workers or reduce the size of their workforce in the coming economic quarter.
Based on that, it rated the UK jobs outlook at plus six, but Northern Ireland at minus three.
Manpower said that last quarter's score of zero made it appear that Northern Ireland was starting to claw its way back to growth.
"However prospects have not been sustained and, whilst there are jobs around, sentiment is not as positive as it was," it said.
"Employers in Northern Ireland have not reported a positive outlook at any point in the last year."
The official figures will be released on Thursday.