Gerry Kelly defends Castlederg IRA dead parade speech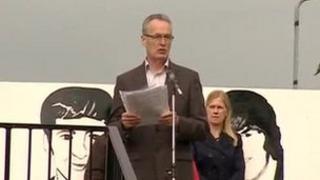 Sinn Féin MLA Gerry Kelly has defended his speech at a controversial parade where dead IRA men were honoured.
He was responding to a DUP assembly motion that said his speech in Castlederg last month gave "succour to dissident republican groups".
The County Tyrone event paid tribute to dead republicans, including Seamus Harvey and Gerard McGlynn.
They died when the bomb they were transporting into Castlederg exploded prematurely in 1973.
Mr Kelly read from the speech during his contribution to the debate at Stormont on Monday.
"No unionist MLA, councillor, MP, or minister, no loyalist paramilitary or loyal order spokesperson, no matter how loud they shout will prevent me or any other republican honouring our comrades who gave their lives in the struggle for Irish freedom," he said.
Pledge of office
"They played their part in our long struggle with dedication and commitment using the tools available to them in the 1970s."
Mr Kelly said he would put a copy of his speech in the assembly library for people to read as he said he believed many of those who would criticise him in the house were not aware of its content.
The DUP motion said Mr Kelly's remarks gave "succour to dissident republican groups and help indoctrinate a new generation down the path of violence".
The motion called on the assembly to confirm its continued support for the ministerial pledge of office and the code of conduct. Mr Kelly said there were no questions he had upheld these.
DUP North Belfast MLA, Nelson McCausland, said the speech was "a eulogy, a praising of those who died on that occasion when they set out to destroy or murder but ended up dying themselves".
'Disaster'
"Dissident republicans will see this as validation and as justification for the things that they are doing now."
Mike Nesbitt, the leader of the UUP, said Sinn Féin, the Provisional IRA and the republican movement had an "ambivalence to violence".
"We believe terrorist violence is absolutely wrong. Move off that and say there are conditions that justify it and you have the terrorist campaign of the Provisional IRA," Mr Nesbitt added.
SDLP North Belfast MLA, Alban Maginness, said the events in Castlederg had been a "disaster for local community relations and a disaster for the body politic in Northern Ireland".
Stewart Dickson of Alliance described Mr Kelly's comments on "past violence as a tool as particularly chilling".
An amendment brought by Sinn Féin was defeated on a vote division. The DUP motion was passed by 52 votes to 24.