85 ash dieback cases in Northern Ireland over past year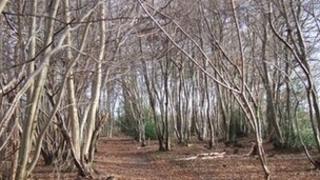 There have been 85 cases of the fungal disease ash dieback in Northern Ireland over the past year.
The disease, caused by the fungus Chalara fraxinea, was first found in Northern Ireland in November 2012.
It is believed to have come from imports from continental Europe.
Paul Frew, the chairman of the Stormont agriculture committee, gave the updated figures during the committee's motion on plant health and tree disease.
He called on Agriculture Minister Michelle O'Neill to address issues raised in a committee report on the matter, and to put pressure on the Department for Environment, Food and Rural Affairs (Defra) and the European Union to create legislation to "suit Northern Ireland".
Mr Frew added that checks for imported goods were not strict enough and that current legislation was not designed to cope with the increase in imports.
"The checks and balances at ports do very little to prevent diseases and pests from getting into the country," he said.
'Valuable lessons'
Ulster Unionist Jo-Anne Dobson said the disease was first discovered in England in March and she believed that this would have given Stormont's Department of Agriculture and Rural Development time to prepare.
However, she said the preparation and response "should have been much better".
Speaking directly to the minister, she said: "Your department should learn a number of valuable lessons so that, when future outbreaks inevitably occur, there are better procedures to deal with them."
In her response to the debate, minister O'Neill said she would provide a thorough response to the committee's report.
She said there had been eight new incidents of the disease since spring until the end of August and there was no new evidence that it was circulating in the wider environment.
The disease causes leaf loss and crown dieback in affected trees, which can lead to tree death.