Philip McCrea swaps his stethoscope for chef's whites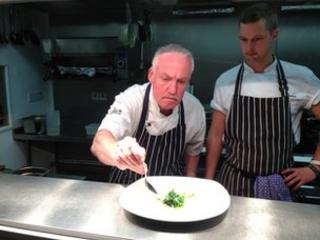 It is a risky business for anyone opening a restaurant when currently one in four in the UK closes in its first year, but one Northern Ireland doctor appears to have it down to an exact science.
Philip McCrea, a consultant in occupational medicine, only traded his stethoscope for chef's whites in April but his County Down restaurant already boasts a waiting list of up to 12 weeks.
During the day he continues to head a busy medical practice, splitting his time between Holywood, County Down and Dublin.
But four nights a week he can be found in the kitchen of Corin in Bangor where he acts as chef cum proprietor.
The symbols of the periodic table that adorn the walls of his restaurant give a hint at his medical training and a scientific approach to food.
He and head chef Steven Sinclair apply molecular principles to cooking, using appliances such as water baths to produce spectacular dishes.
But he insisted he doesn't want to mess around with the ingredients. "The food's the real star," he said.
Juggle
"I have a scientist's eye for detail, our preparation is meticulous. The team I work with is very creative, so hopefully that comes together on the plate."
Philip had always harboured an ambition to open a restaurant and after 30 years in medicine took a sabbatical to attend an intensive course at the prestigious Cook's Academy in Dublin, where his kitchen craft wowed the Michelin-starred examiners. In the final assessment he was awarded virtually full marks.
How does he juggle perhaps two of the most stressful professions? Although he has scaled back the hours spent at his practice in Holywood, Philip said it is not unusual for his working day to begin at 8am and end around 1am the following day. He said, though: "I enjoy it so much, the time flies by."
Why open a restaurant when so many are shutting? "I did research, for about two years," he said. "I looked at what other restaurants were doing and I thought there was a niche for great quality food at a reasonable price."
John McKenna, one of the editors for Bridgestone Food Guides, agreed with this analysis. "In order to succeed you have to tap into what people want and right now that's the right menus at the right prices in the right place."
Succeed
The rule, as he sees it, is "if you don't have it right, whether there's a credit crunch or not, you will fail".
"The only difference in a credit crunch is that people fail even faster, but if someone comes along with something different then they will succeed regardless."
So far, that approach seems to be working. Philip claimed that only one other restaurant in Ireland currently has a three-month waiting list.
Now that things are going well, would he consider only working full-time hours? "I plan to carry on with the medicine until I'm 60. When you get to my sort of age, there's only so long you can keep up that kind of pace."
Philip hopes that his son Nicky, 22, who studied business at Liverpool University, may one day take over and continue to grow the business.
When I ask him what the future will hold for his restaurant, Philip chuckled: "Corin Belfast, Corin Dublin… dare I say, Corin Paris?"
That may be some way off, but for the time being, the success of Corin is just what the doctor ordered.