SDLP makes appointments following McDevitt resignation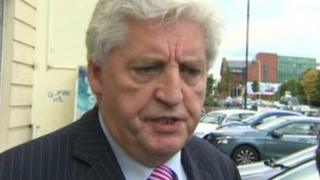 The SDLP leader Alasdair McDonnell has made a number of new appointments.
Dolores Kelly, the MLA for Upper Bann, will join the policing board.
West Tyrone MLA Joe Byrne will also join Alex Attwood in representing the SDLP at the upcoming Haass talks.
The announcement follows the resignation of South Belfast MLA Conall McDevitt after revelations about payments to his wife's company.
Mr McDonnell said: "As a former policing board member and party chairman Joe has displayed an outstanding work ethic and commitment to resolve the challenges this society faces.
"Joe will provide a strong voice for ordinary people whose lives are so negatively affected by ongoing conflict and contentious parades."
He also praised Ms Kelly's previous work on the policing board.
"She brings significant experience to the role and will provide strong leadership and strong representation for the SDLP but more importantly for all of the people of this region.
"We are facing challenging times in terms of how we are policed and I am confident that Dolores will provide the necessary leadership."
On Monday Mr McDonnell said a new MLA for South Belfast would be selected within a week after nominations close on Friday.
Mr McDonnell would not be drawn on who he was backing in the race.
He said the issue had to be resolved within a week and that a previous suggestion of a four-week process was a misunderstanding around rules.