Further 'chaos' predicted in Hazelwood College dispute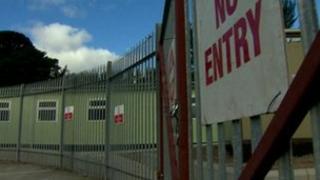 A barrister for the mother of a pupil at Hazelwood Integrated College has predicted more chaos unless the dispute over access to classrooms is resolved.
A senior teacher said he was at breaking point, trying to find spaces for pupils at the north Belfast school.
A judge has adjourned the application of a parent who complained her child was not being educated properly.
The parent of the fourth year pupil wanted the school to be allowed to use new mobile classrooms.
However, at the High Court Mr Justice Treacy said he would not allow temporary access to the site which is owned by the Belfast Board.
He said he wanted to see an affidavit from the school principal on the outstanding issues and also to find out how the school fence around the site was cut open without authority to allow a gate to be installed.
Hazelwood Integrated College students have been unable to use 14 mobile classrooms since the start of term last week, due to the land dispute.
Access to the land where the classrooms are located has been padlocked shut by Belfast Education and Library Board.
The family taking the case is represented by the Belfast firm of solicitors, KRW Law.
'Detrimental impact'
In a statement, KRW Law said the boy had been "denied access to school facilities" as a result of BELB's decision to lock up the mobile units.
"The decision has had a negative impact on the education needs of the applicants' child and a detrimental impact generally on all children at the school," the statement added.
The legal firm said it wrote to the BELB last Thursday "to attempt resolution of the ongoing impasse", but added that after it received a written reply from the BELB's solicitors on Saturday, they believed they had "no alternative but to proceed to court".
The new mobile units were installed to accommodate increases in student numbers at Hazelwood Integrated College.
On the first day of term last Monday, 3 September, principal Kathleen Gormley sent 200 sixth form pupils home at lunchtime, due to the shortage of classroom accommodation.
Talks
The BELB, which owns the fenced-off section of land, had padlocked the area because it said the school's lease for the land had not yet been approved.
A board spokesperson said the lease approval process was complicated and the school authorities had been informed that the matter would not be resolved by the start of September.
Meetings between the school authorities, the BELB and the Department of Education took place on Monday.
In a statement, Eoin McCrea, vice-chair of the school's board of governors, said "significant progress" had been made on a number of issues.
He said a further meeting would take place on Friday.
Mr McCrea said all those involved were committed to reaching a "speedy resolution".