Ballynahinch Congregational Church members walk out in protest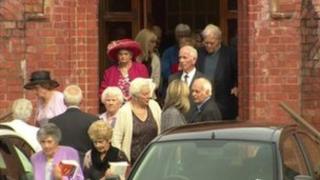 At least 60 members of a County Down church have walked out of a Sunday service in protest, as a bitter row over its minister continues.
The dispute over the position of the Reverend George Speers has split Ballynahinch Congregational Church.
Sunday's protest followed on from angry scenes inside the church last weekend, when police were called to the scene.
Officers attended after reports that one member of the congregation was head-butted as a result of the dispute.
Seven days after those angry exchanges, police were again in attendance for Sunday service.
Deep divisions
However, only two officers were on duty and they maintained a discreet presence while the service got underway.
Within seconds of the minister entering the room, at least 60 people stood up and left.
Mr Speers continued with his service and more than 80 people remained inside the church.
The row has caused deep divisions within the congregation, with many wanting the minister to remain preaching while others want him to go.
The protesters in disagreement with both Mr Speers and the way in which he is leading the church.
Samuel Graham, who identified himself as a trustee of the church, read a short statement on behalf of the protesters in the grounds of the building.
'Righteousness'
He said: "The scenes in our church last Sunday were something that we were disappointed with, but this was brought to us by a measure of frustration, and deep despair, to which the majority of peace-loving members had been brought down to."
During his sermon, Mr Speers preached that righteousness was the only way out of the church's current problems.
The nature of a congregational church means that its members decide on the its direction - there is no ruling authority.