Purchasing Managers Index (PMI) shows NI private sector recovery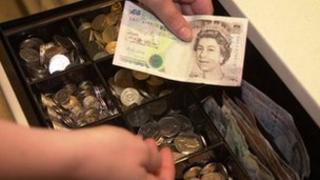 A survey of businesses has suggested that the recovery of Northern Ireland's private sector is gaining momentum.
The Purchasing Managers Index (PMI) is a monthly survey of a panel of firms and it tracks indicators such as new orders, employment and exports.
It shows NI business activity in August grew at its fastest rate in six years.
The survey pointed to the fastest expansion at retailers, while strong growth was also recorded at manufacturers and service providers.
'Significant rise'
The PMI data is produced by Ulster Bank.
Richard Ramsey, the bank's chief economist in Northern Ireland, said the "stellar performance" of the retail sector had been helped by the good weather as well as the World Police & Fire Games in Belfast and the All-Ireland Fleadh in Londonderry.
He said that the performance of the service sector as a whole was particularly encouraging as it is the largest segment of the economy.
'Still struggling'
"The significant rise in service sector employment in August meant that Northern Ireland firms reported their first back-to-back monthly rise in staffing levels since early 2008," he added.
The survey also suggests that the troubled construction sector is still struggling - it showed a fall in new orders and employment in August.
Official economic growth figures for the second quarter of 2013, known as the Composite Economic Index or 'Northern Ireland GDP', will be published in October.