Fourth person arrested over Dunmurry arson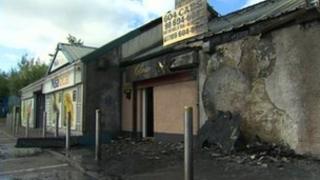 A 22-year-old man is the fourth person to have been arrested by police investigating an arson attack in Dunmurry, on the outskirts of Belfast.
The Colin Centre at Pembroke Loop Road that housed a chip shop, taxi office and a convenience store, was damaged in the fire on 3 September.
It is believed that rubbish had been stacked up at the front of the properties and then set alight.
A man, 19, and two women aged 21 and 23 have been released on bail.