Cavan pub siege: Woman had been beaten and shot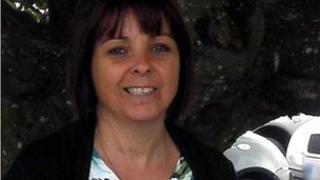 It is understood a 54-year-old woman killed in County Cavan on Thursday evening had been beaten and shot.
Police are continuing to question a man over the killing in Bailieborough.
The woman who died has been named locally as Patricia Kierans, a mother of four originally from west Belfast, but who moved to Cavan many years ago.
The man who was arrested is believed to be the woman's estranged husband. He was detained after a 10-hour stand-off at a pub in the town.
A sister had reported Mrs Kierans missing on Thursday and police went to the bar to speak to the man.
Local journalist Joe McCabe said: "When gardaí went to interview the man at the bar, which is a mile away from where the woman was found, he produced a shotgun and barricaded himself into the basement.
"The Garda Emergency Response team was called, the town was sealed off and people living nearby were told to leave their homes."
Police negotiators spoke to the man throughout the night and just before 04:00 BST the stand-off ended peacefully when the man surrendered.
Staff and customers at the bar had previously fled.
Bailieborough is about 25 miles from the border with Northern Ireland.
Mr McCabe said there was a media black-out on press reporting during those telephone negotiations.
He said the woman who died had lived in the town for many years.
She had grown-up children aged between 22 and 33.
Fr Oliver O'Reilly, who knew the dead woman and her family, said: "Three of them already were in Australia, one of them had taken a flight to join them yesterday morning - he was still in the air when all this happened.
"I was speaking to one of the family members last night and they were totally devastated."