DVA jobs: NIPSA hold meeting in Coleraine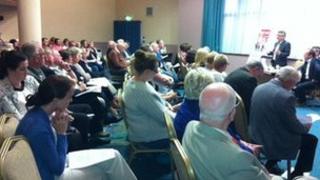 Around 100 people attended a public meeting organised by NIPSA to discuss plans to close the Driver and Vehicle Agency (DVA) office in Coleraine.
Politicians from a number of political parties attended.
NIPSA union representatives told the meeting that Coleraine could not afford to lose 300 jobs in the town.
MP for the area, Ian Paisley Jnr, said the Secretary of State, Teresa Villiers, should also be lobbying to keep the jobs in Northern Ireland.
More than 300 jobs at the DVA centre in County Londonderry have been under threat for some time, due to plans to centralise the service in Wales.
In December 2011, the Department for Transport in Westminster proposed the closure of 39 regional Driver and Vehicle Licensing Agency (DVLA) offices across the UK, in order to centralise the service at its headquarters in Swansea.