Lynda Eremion used false divorce certificate for 'sham' wedding, court told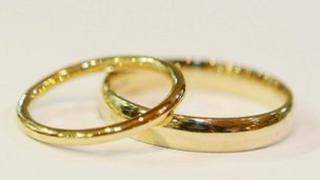 A woman accused of being a "sham" bride produced a false divorce certificate for her wedding, the Belfast High Court has been told.
Lynda Eremion and the British citizen she was about to marry were arrested on 28 August, when immigration enforcement officers stopped the Belfast ceremony.
The defence said Ms Eremion, who is originally from Nigeria, denies a charge of seeking to obtain leave to remain in the UK by deceptive means.
Her bail application was adjourned.
The prosecution said registry officials at Belfast City Hall had detected inconsistencies in accounts given by the couple before their planned wedding.
'Intent to deceive'
During the High Court hearing it emerged that 29-year-old Ms Eremion first arrived in the UK on a visa to study at the University of Glamorgan in Wales.
She started a course but left without completing it, the court heard.
Opposing her release, a prosecution barrister claimed a decree absolute document that Ms Eremion had produced to confirm she was divorced was found to be false.
Although the accused initially claimed to live at Heatherbell Street in east Belfast with her future husband, the prosecution said she later gave her address as Tates Avenue in the south of the city.
Concerns were also raised over the welfare of her three-year-old son.
'Innocence'
The prosecution barrister added: "She has shown an intent to deceive the authorities by engaging in this sham marriage so she can remain in this country with her child."
However, counsel for the defence said that Ms Eremion has protested her innocence throughout the case.
The lawyer also pointed to the potential impact on his client's son if she remained in custody until the case goes to trial.
Adjourning the bail application, the judge requested more details from social services and on a possible bail address.
The judge said: "What I'm concerned about is that the child does not suffer."