Trevor Lunn is to reflect on hiring his wife as Policing Board researcher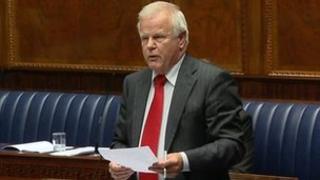 Alliance MLA Trevor Lunn has said he will reflect over the next few days on whether to continue employing his wife as his Policing Board researcher.
Earlier, he defended the arrangement, saying he acted within the guidelines.
Mr Lunn gave no details about how much his wife has earned but each political party receives a £16,000 allowance from the Northern Ireland Policing Board.
It follows revelations that Conall McDevitt's wife got £30,000 working as the ex-SDLP MLA's NIPB researcher.
Earlier this week, the Alliance MLA for Lagan Valley told the BBC that he had hired a member of his family to carry out research on his behalf as a NIPB member, but refused to identify that family member.
But in a statement on Thursday, Mr Lunn said: "Following my appointment to the Policing Board on May 2011, I took the decision to engage my wife in undertaking research support services in support of my role.
"In line with the requirements of the scheme I made the appropriate declarations to the Policing Board.
"The fact that I had done so is reflected in the Policing Board's annual report.
"At all times I have acted within the Policing Board guidelines. As this was a matter for the Policing Board there was no requirement for me to declare this in the Assembly register of interest."
Mr Lunn said he had not initially identified his wife as he viewed it as a "private matter".
"It's not a secret, but there is privacy involved," he said.
"I took the view I shouldn't be talking about it, I like to call my wife an employee but I shouldn't really be talking about my employees in public.
"I was persuaded by the party on Thursday that the best thing to do was to bring it into the open and have done with it."
Mr Lunn said an enormous volume of paperwork came through the Policing Board.
"I sit on five or six different committees and volumes of stuff come to me which need to be read and analysed to some extent, and that's where my wife would have been helpful to me," he said.
"I'm satisfied with what she has done for me in the last two years."
Mr McDevitt resigned from public life on Thursday, after admitting that he had not declared a £6,750 payment from his former company Weber Shandwick after he was appointed as a South Belfast MLA in 2010.