Police injuries 'twice last reported figure'- Police Fed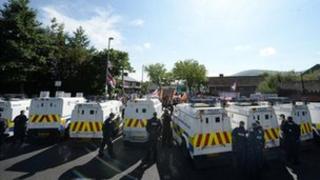 The number of injuries to police officers is almost double the previously reported figure according to the Police Federation chairman.
Terry Spence said he expects the PSNI to confirm to the Policing Board that since 1 July last year there have been 689 injuries to officers.
In August the official number of injuries was given as 350.
Mr Spence said 20% of frontline officers had been hurt at flag disputes, parades and counter protests.
He called the figures the "full and shameful price" being paid by the PSNI.
Several officers suffered repeated injuries.
'Unsustainable'
Mr Spence said he was "immensely proud" of his colleagues but that the physical and emotional toll being taken on the lives of police officers and their families was "unsustainable".
"They have more than met their professional commitment to face down rioters and to maintain law and order in the most threatening circumstances," he said.
"At the same time they also have to be on their guard against the dissident republican threat which again showed its potential for murder in Cullyhanna."
Mr Spence said common sense and dialogue should be seen as "the proper way to engage".
"It is the only way to arrive at an accommodation with each other," he said.