McDevitt resignation 'big loss to SDLP'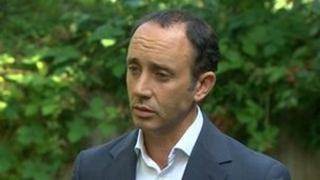 Conall McDevitt was right to quit politics but he is a significant loss to the SDLP, former party leader Mark Durkan has said.
Mr McDevitt, who was a South Belfast MLA, resigned after it emerged he had failed to declare more than £6,000 earned from a public relations company.
He said he failed in his duty to uphold the standards expected of an MLA.
Mr Durkan said it was a serious mistake, but there was only one option.
'Personally devastated'
"He is a huge talent, he has paid more than his pound of flesh for his transgressions," said Mr Durkan.
"It was a very high price to pay."
Upper Bann MLA Dolores Kelly described her colleague's resignation as a "sad day" for her party.
"I, like many people across the north, am personally devastated by the news that Conall has resigned from the party. He set a very high standard for himself and he accepted a very high price.
"Conall McDevitt did not steal one penny, he committed no offence," she told BBC Radio Ulster.
"He was negligent in not putting onto the register a payment that he (received) for work that he did whilst he was an MLA, and I think I speak for many people both within and without the party that it's a very sad day for the SDLP to have lost a person of the calibre of Conall McDevitt."
'Enjoyed scrapping'
A number of the SDLP's electoral opponents, including leading unionists, also expressed some admiration for the contribution Mr McDevitt had made to debates within Stormont.
Health Minister Edwin Poots, from the DUP, wrote on his Twitter account: "Sometimes a day is a long time in politics, never mind a week. I enjoyed scrapping with Conall, he was an able opponent."
TUV leader Jim Allister tweeted: "Though opposed to Conall McDevitt's politics, he had talent and ability well above the average MLA. Not an easy decision for him."
Northern Ireland's Deputy First Minister, Martin McGuinness from Sinn Féin, tweeted: "Conall McDevitt's resignation from politics is sad for him and his family and I wish them all the best in the future."
Mr McDevitt represented the South Belfast constituency at the Northern Ireland Assembly since January 2010.
He was co-opted to the position, replacing the SDLP MLA Carmel Hanna, and retained the South Belfast seat in the 2011 assembly elections.
'Serious breach'
It has emerged that money was paid to Mr McDevitt by his former company, Weber Shandwick, so that he could mentor the company team that replaced him after his election as an MLA.
Mr McDevitt said on Wednesday: "That should have been declared and it wasn't. That's a serious breach, in my opinion, of the code.
"I have rectified it today, but I entered politics to try to bring about change and positive change, and I feel I have fallen below the standards expected of someone in public life.
"Therefore, I think there's a duty on me to resign my position in public life in order to protect the integrity of the institution and to acknowledge the error that I have made, for which I am obviously deeply sorry."
The statement came a day after Mr McDevitt confirmed that his wife, Joanne Murphy, had received £30,000 in public funds in the last two years, carrying out research for him in his role as a member of the Northern Ireland Policing Board.
Last month, it was revealed that more than £14,000 from Mr McDevitt's assembly office cost allowance was paid to researchers through his wife's firm, JM Consulting.