David Ford commissions research into prostitution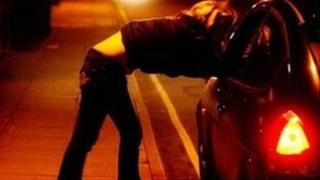 Justice Minister David Ford is to commission independent research into prostitution in Northern Ireland.
The issue has been in the spotlight because of an assembly bill on human trafficking.
Mr Ford said prostitution and human trafficking, although there was overlap, needed to be each considered in their own right.
He said research would ensure future policy would be based on sound evidence.
"I am committed to doing all I can to tackle human trafficking and, indeed, my department is taking forward a major programme of work," the minister said.
"It is a horrendous crime and all our efforts must be on prevention, recovering and supporting victims and prosecuting those responsible.
'Criminalise'
"I therefore welcome the awareness-raising and public debate that Lord Morrow's bill has generated."
Mr Ford said it was a a matter of public record that he had concerns about elements of the bill and in particular a clause that "contains the provision to criminalise paying for sexual services".
"I have spent time engaging with a number of different stakeholders, including the PSNI and a broad range of non-governmental organisations (NGOs), and believe that before making any provision to change the law, much more detailed research is needed," he said.
"The wider policy issues surrounding prostitution, including supply, demand, health needs and the safety and wellbeing of vulnerable women, all deserve consideration and, if changes to the law are required, such proposals should be subject to wide ranging consultation.
I am very concerned that in the absence of such thorough research and consultation, we risk a number of serious, unintended, consequences.
"I consider that this research will set out the position in Northern Ireland from where we can reach informed decisions on the way forward."