Lord Chief Justice's concern over legal aid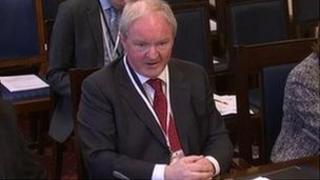 More people are coming to court without legal representation and may not do themselves justice, the NI Lord Chief Justice Sir Declan Morgan has warned.
He said such people, typically on modest incomes, fell outside the scope of legal aid for the least well-off.
Sir Declan said a recent survey said that about 30% of some types of cases taken to the Court of Appeal involved those not represented by lawyers.
He said newly-qualified lawyers could help those representing themselves.
"By the time that they come face-to-face with the judge, they may be so overwhelmed that they do not do themselves justice, no matter what the level of patience and understanding shown by the judge," Sir Declan said.
"Newly-qualified lawyers finding it difficult to get work could step in to explain to those representing themselves how to make their case and help identify issues to be considered by the judge", according to the senior legal figure.
'No sustainable'
"There is a danger that in finding an answer to the problem of limited resources, we examine only the stark choices of having or not having full legal representation and lose focus on the other ways in which we can provide some help to those coming before the courts," he said.
Stormont's Justice Department recently proposed further cuts to civil legal aid.
A spokesman for the department said: "The levels of expenditure on legal aid are not sustainable and the justice minister's reforms will drive down the cost without harming access to justice."
The Law Society, which represents solicitors, claimed the real social impact of the changes had not been outlined and warned that key areas of legal advice and representation would be closed to those who needed help.
The representative body stressed the need to ensure representation for victims of domestic violence, those in financial difficulties, members of broken families and a fair trial for all.
Sir Declan said many who represented themselves before a judge had never been in court before.
"They may not know where to sit, when to speak, what issues the judge will consider, what knowledge of the case the judge has and how they should deal with the opposing party - often represented by a lawyer," he said.
The lord chief justice referred to a guide prepared for his office for those coming to the High Court but accepted that it only underlined the challenges faced by personal litigants.
He said it was not realistic to assume that members of the public could be turned into lawyers overnight.
Sir Declan also referred to "the excellent support provided by the Housing Rights Service, the Law Centre and Citizen's Advice Bureau to help those coming to court" and said perhaps more could be done to help organisations that were helping others.