David Haddock undergoes pioneering burns surgery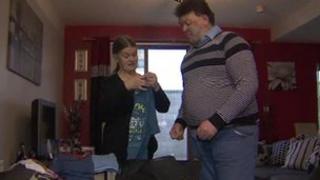 Pioneering treatment is to be carried out on an east Belfast man who was severely burned in a house fire over 30 years ago.
David Haddock was left badly disfigured after the fire in 1981.
His grandmother died in the fire while his mother died from her injuries a fortnight later.
A benefactor is paying for the surgery after the Belfast health trust cancelled a scheduled operation seven times in as many months.
The benefactor, who wishes to remain anonymous, got in touch with the BBC after a report revealed how the man had been let down by his local health trust.
David has been a patient at the Royal Victoria Hospital in Belfast for over 20 years but, according to the family, recently the Belfast health trust cancelled appointments and appeared not to want to help him any further.
The man, who also has learning disabilities, was often left distressed and confused.
His aunt, Edna Williams, who is now his sole carer, told the BBC she only ever wanted people in the trust to treat them with respect and to be honest.
The treatment, which is taking place in private clinics in Belfast and Dublin, began in July.
Mr Brendan Fogarty, a consultant plastic and burns surgeon, is performing the surgery.
"It will make an improvement - it's not going to be a cure. As long as patients, and in this case David, realise that," he said.
"It will be a significant improvement to his appearance."
Painstaking
As a result of the fire at the family home in Derwent Street, David's face was severely burned.
He has no eyebrows as his hair follicles were destroyed, he is also unable to grow a moustache due to his scars.
David's hands and feet were also affected and he has had to wear special boots to help him walk.
The pioneering hair transplantation, which is normally performed cosmetically on people who are bald, will in this instance be used to help someone disfigured by fire.
Mr Fogarty, who is based in the burns unit at Belfast's Royal Victoria Hospital, has been performing the procedure for several years at a private clinic in Dublin but it's not available on the NHS.
"David is a real character and his is a particularly tragic story.
"It's very gratifying to do something to help. I really hope that each little step will bring him towards some degree of happiness."
The process started in July at the independent clinic in Belfast. Skin that was scarred on David's eyebrows and moustache area was removed.
What is described as "good skin" was taken from behind David's ears and from his shoulders and grafted in place.
In effect, a new surface was being put in these areas to allow new hair to grow.
Less than eight weeks later there are signs that the skin graft has worked.
However the hair transplant to the moustache area is complex.
It involves dissecting individual hairs from the beard area and transplanting those to the moustache area. Whilst it is a slow, painstaking process, it has been done for more cosmetic purposes.
The hair transplant operations will be carried out several times to increase the amount of hair.
It's thought that around 400 people in the UK could benefit from this procedure every year.
While the Belfast Health Trust has appealed to the department of health to pay for individual cases so far only one had been successful.
While it is not suitable for a lot of cases, those who have benefited from Mr Fogarty's expertise, say it has changed their lives for the better.
It is hoped David's case will highlight how burns victims that have lost their hair could benefit by the treatment being available on the National Health Service.
The hair transplantation procedure is due to start within the next couple of weeks in Dublin.
So far the skin grafting has worked and the skin is ready for the next stage.
It's a long and sometimes painful process but David says he is ready.
"I am nervous. But I want it done. I want to have eyebrows and a moustache. Maybe then people will stop teasing me."
It has taken almost a decade for the surgical team to be trained up in Dublin.
Now that Brian Fogarty is part of that team there is some hope it could be developed at the RVH in Belfast.