Milestone reached in Belfast cancer research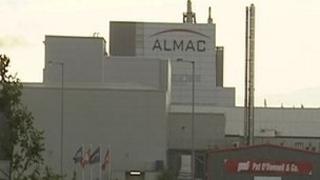 A milestone in the development of a new cancer drug has been announced by Queen's University Belfast and pharmaceutical company Almac.
Researchers said the drug, ALM201, "targets tumours by an entirely different pathway to other treatments".
Rather than attacking tumours directly, it prevents the growth of new blood vessels in tumours by starving them of oxygen and nutrients.
Trials will involve up to 60 patients being treated for ovarian cancer.
ALM201 is derived from a natural protein originally discovered by a Queen's School of Pharmacy research team and developed by Almac Discovery Ltd in Craigavon.
'Likely to respond'
The research team said it had the potential to treat a wider range of patients than currently possible including those resistant to existing therapies.
In a joint statement, Queen's and Almac said: "The partnership will enable new approaches to selecting those patients who will be most likely to respond to the new drugs, and to create the technologies needed to deliver the drugs directly to the tumour site in the patient.
"With preclinical studies successfully completed, the drug has reached a significant milestone with phase one clinical trials scheduled to begin in early 2014."
A total of £13m has been invested in the work, including financial support from Invest Northern Ireland and the European Regional Development Fund.
Enterprise Minister Arlene Foster said: "This significant investment in research and development will enhance collaboration between academia and industry.
"This will ensure the investment is maximised, that research is effectively commercialised and that ultimately, enhanced treatment solutions are made available to cancer patients."