Man arrested over fuel laundering plant in County Down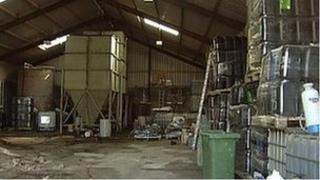 A 61-year-old man has been arrested after a fuel laundering facility was found in County Down.
Twenty four tonnes of toxic waste was discovered in Mayobridge, near Newry.
HM Revenue and Customs found the illegal fuel factory in a raid on a farm on Wednesday.
Investigators said that it was capable of laundering and packing about 24m litres of diesel a year. They said this could amount to evading £15.5m in duty and taxes a year.