Arson suspected in Londonderry school fire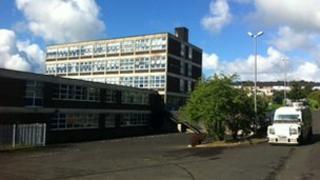 Arsonists may have been behind a fire that badly damaged a former school in Londonderry, a fire officer has said.
Assistant Group Commander Mark Smith said he believed the blaze at St Peter's High School in Creggan may have been started intentionally.
At one point nine fire appliances attended the fire which broke out just before 21:00 BST on Wednesday.
Fire-fighters remained at the scene into the early hours of Thursday.
Further investigations are to be carried out into the cause of the fire.
Badly damaged
Mr Smith said: "There has been extensive damage to the roof of the main section of the building and also there was a fire within the building as well. It was heavily smoke-logged."
On Wednesday, police advised residents in the vicinity of St Peter's High School to remain indoors due to smoke coming from the building.
In July, the former school's canteen was badly damaged in what was also a suspected arson attack.
Derry Sinn Féin Councillor Kevin Campbell said it was crucial that "the school be demolished and the site cleared as soon as possible".
"This is a large site and very hard to secure 24 hours a day and sadly has become a magnet for much anti-community activity in the area," Mr Campbell said.
"Plans have been submitted for over 100 new homes in a social housing project on the site and it will be some way off before any plans become a reality."