Damien Duffy refused bail on Lurgan mortar bomb plot charges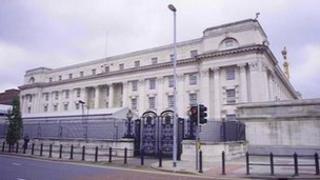 A mortar bomb attack was being planned on a security forces vehicle in County Armagh, Belfast High Court has heard.
Prosecutors also claimed reconnaissance was used against police and prison staff, including a governor, in Lurgan and Craigavon over a two year period.
Details of the allegations emerged as bail was refused to one of three men accused of a plot to bomb and kill.
Damien Duffy, of Campbell Walk, Lurgan, is charged with conspiracy to murder and conspiring to cause an explosion.
The 43-year-old is also charged with collecting information likely to be of use to terrorists.
Covert recordings
The bail hearing was told suspects allegedly involved in the murder plot drove past one target's home more than 50 times in eight days.
Mr Duffy was arrested in May last year, following a nine-month police investigation involving surveillance, tracking and covert recordings.
The alleged offences, stretching back to November 2009, relate to PSNI and prison officers' movements in the Lurgan and Craigavon areas, their addresses and routes they took to and from work.
Counsel for the prosecution claimed audio recordings showed the Kilmore Road and Cottage Road junction in Lurgan was to be used for a mortar bomb attack on security forces.
The location is on a route regularly used by police and prison staff, the court heard.
Alleged discussions between the suspects included references to lines of sight, getting angles right and breaking cover.
'Governor's home'
The barrister also claimed those involved in the plot were targeting and preparing to attack two identified prison officers as they came and went from Maghaberry prison in County Antrim.
The judge was told the prison governor's home in a rural setting was passed several times for no apparent legitimate reason.
Turning to the information gathering charges, the barrister claimed two of the accused scouted one officer's home on 54 occasions - including 21 times within a 90-minute period.
According to police, anti-surveillance techniques such as checking back on themselves and U-turns were performed.
Discussions about areas for carrying out an attack, escape routes and "giving it 20 seconds to get down there" were allegedly recorded.
It was accepted in court that forensic analysis of the audio recordings was unable to attribute any of the remarks to Mr Duffy.
However, accounts from independent witnesses put him in the car used during the alleged offences, it was alleged.
'Speculated'
A defence barrister argued that Mr Duffy should be released due to the "paucity" of evidence and delays in processing the case.
"The starting point is what can be attributed to this accused, and at no time is there any express reference to targeting, weaponry or anything of that nature," the defence barrister said.
"What appears to be a case grounded principally on what can be inferred or speculated was at hand does not pass muster.
"In the period of time the accused was under surveillance, whatever was being suggested by the prosecution absolutely nothing happened."
The judge refused bail saying: "In cases of terrorism the offence is driven by a warped political ideology. Therefore there is a significantly higher risk of further offences."