Edna Williams: The woman who stood up to the NHS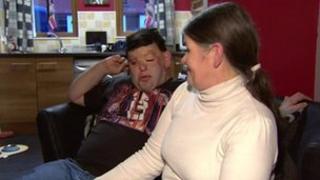 What Edna Williams lacks in stature, she makes up for in grit and determination.
Edna is the family's "go-to person", the one who listens, defends, advises and, when necessary, scolds.
At the start of the year, Edna made contact with her local MLA, Michael Copeland. Mr Copeland said I might be interested in her story. He was right, I was immediately hooked.
Standing at just under five foot and with her long grey hair tied back in a ponytail, Edna told me that all she wanted was the health service to play fair and to help her son David.
Quickly I realised that David was actually her nephew. But like many families in Northern Ireland, for one reason or another, he had been brought under her maternal wing. As I have witnessed over the past number of months, her love for David is as genuine as any mother's love for a son.
While the BBC agreed to tell David's story - it's difficult not to tell the story of the woman who raised him as well.
Born in east Belfast as Edna Haddock, at 18 she married Robbie. Five months later, she was widowed when he died in a hit and run accident. As she buried her husband little did Edna know she was several weeks pregnant with his child.
While Edna is a very strong woman, there was a hint of a smile - even some laughter in her eyes - when she remembered Robbie.
"He was very nice, yes kind. But it was a terrible time - first I was a bride then a widow all inside a couple of months," she said.
"Then I discovered I was having his baby, it was awful. But I just got on with it. What else could I do?"
'Sixth sense'
Getting on with life is Edna's mantra. At 59 she is one of 11 children. Florence, her younger sister, died at just six weeks old, a brother died by suicide and she lost her mother and sister in a house fire.
"Things get thrown at you in life, but you have to cope with it," Edna said.
"As I say, and teach my own children, take one day at a time. Deal with it because you never know what the next day will bring."
Raised in the heart of east Belfast, Edna's parents were working class and proud of their roots.
Her father died shortly after his 11th child was born, her mother Maureen was taken in the same house fire at 58 Derwent Street that left David badly disfigured. After that fire, on 1 May 1981, Edna's life was turned upside down.
Despite not being the eldest, Edna became head of the family after the fire. According to her older sister Agnes, Edna took on the role unassumingly.
Ever since, Edna has steered the family through rough times. According to Agnes, she has always put her grandchildren and children first.
"Edna has taken a lot on. There was all of us for a start, then she had seven children of her own and David makes eight," Agnes said.
"We all depend on her but, as she's quick to care and sympathise, she's not slow in coming forward to criticise when we've done wrong."
Like other families, they've had their fair share of problems including cancer, suicide and in-laws dying prematurely. Recently, a granddaughter had a liver transplant.
Agnes, who was recently widowed, recalls how a few days after her husband's funeral, she was home alone and feeling incredibly depressed. She didn't know how she would carry on. Typically, according to Agnes, Edna showed up at the door with a smile and the loan of a shoulder for Agnes to cry on.
"That's typical of Edna, she always seems to turn up when you need her, or she'll phone or text," she said.
"Like a sixth sense or something. You couldn't get a better sister than Edna. "
Honesty and loyalty
Agnes can't recall the last time Edna got her hair cut. Always dressed in black and white there is never a trace of make-up. However, if there's a drop of tea going she'll not say no.
What you see with Edna is what you get. Like her attire, things are always black and white. If you make promises they should not be broken. As for the Belfast Health trust, she believes they are there to help David.
"I know he can be difficult, but it's not his fault. They promised to help him but they let him down. They promised surgery to his face, but they didn't do it. If you make a promise you should keep it."
As well as being David's carer, Edna does the school run for her grandchildren. As she can't drive, she walks everywhere instead.
When I first met Edna, I wondered why she had raised David as her own. Now that I know her better, I understand that Edna could never turn her back on someone in need, let alone her sister's child.
Edna Williams stood up to the National Health Service. A tough but kind lady - she also believes in honesty and loyalty.