Four arrested over man found beaten and naked in wheeled bin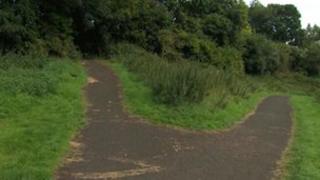 Three men and a woman have been arrested in connection with the discovery of a naked man sealed in a domestic recycling bin.
The man was found beaten and nude in a taped-up wheeled bin near Sentry Hill, Ballymena, County Antrim, on Tuesday.
The victim was found by a man walking his dog. It is understood the bin lid had been taped shut and there may have been attempts to set it on fire.
The man, thought to be in his 20s, has a suspected broken arm and leg.
The investigating police officer said: "At this time, I do not believe that there is a sectarian motive nor do I consider that it is paramilitary related. This incident has shocked local people as this an area where crime isn't prevalent."
The man was taken to Antrim Area Hospital by ambulance where his condition is described as stable.
It is not clear where the attack took place.
BBC Northern Ireland reporter Ita Dungan said she spoke to the wife of the man who found the victim in a paper recycling bin.
"Their dog started to bark in quite an unusual way. So her husband made his way down a sloped area, covered in nettles. At the bottom of the slope this gentleman found a bin that had been taped up," she said.
"The bin was on its side. It was wedged under a tree so that the lid couldn't be opened.
"When he opened the bin, inside was a person who was absolutely drenched in sweat. He appeared to be very dehydrated."
Assembly member Paul Frew, DUP, said police had told him the incident did not happen in the park, but the victim was later brought there.