100 jobs lost after Derry firm 'lost Tesco contract'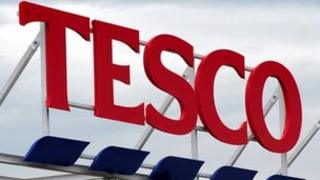 A Londonderry businessman has said he had to lay off 100 people after his firm lost a major contract with Tesco.
Rock Shopfitting services, based in Derry and Muff in County Donegal, carries out re-fits and merchandising for high street retailers.
Company director Martin McCafferty said Tesco was its biggest client and he now fears for the future of his company.
Tesco said it was aware of the firm's concerns but was satisfied it had been dealt with "fairly and transparently".
Workers have been laid off in the merchandising department of the company, but Mr McCafferty is concerned that another 50 may go at the fitting division.
"Our workers are so aggrieved, because they have always done a very good job."
An Irish entity is an international company that is registered in Ireland. It has to file accounts and comply with legal regulations in Ireland.
'Wrong'
"The stores themselves within the north of Ireland and the republic do not want this going on and they're not happy about it, because most of the people who work in it they are local people."
Mr McCafferty said the policy was "not right" and he said he had brought his concerns to Tesco.
He said the workforce had been protesting at several Tesco stores, including some in Belfast and Dublin.
"People with families are being thrust aside for the sake of profits. 85% of our work was with Tesco, and Tesco were aware of that. I don't really see how long term how the company can survive because they have decimated the workforce. It's wrong."
In a statement, Tesco added: "We have a very competitive but clear tender process and we continue to invite them to tender for work.
"The tender for the most recent contract was won by two Irish entities."